Our Primary Care membership is designed for individuals, couples, and families seeking a more holistic approach to their primary care. This membership includes direct access to your provider (yep, that's right…you get your providers direct cell phone number with this membership), medication management, discounts to medications and labs, and access to all of our membership perks!
We have discounted options for college students, couples, and families. Call or text our office to schedule a free consult, 269.220.0648.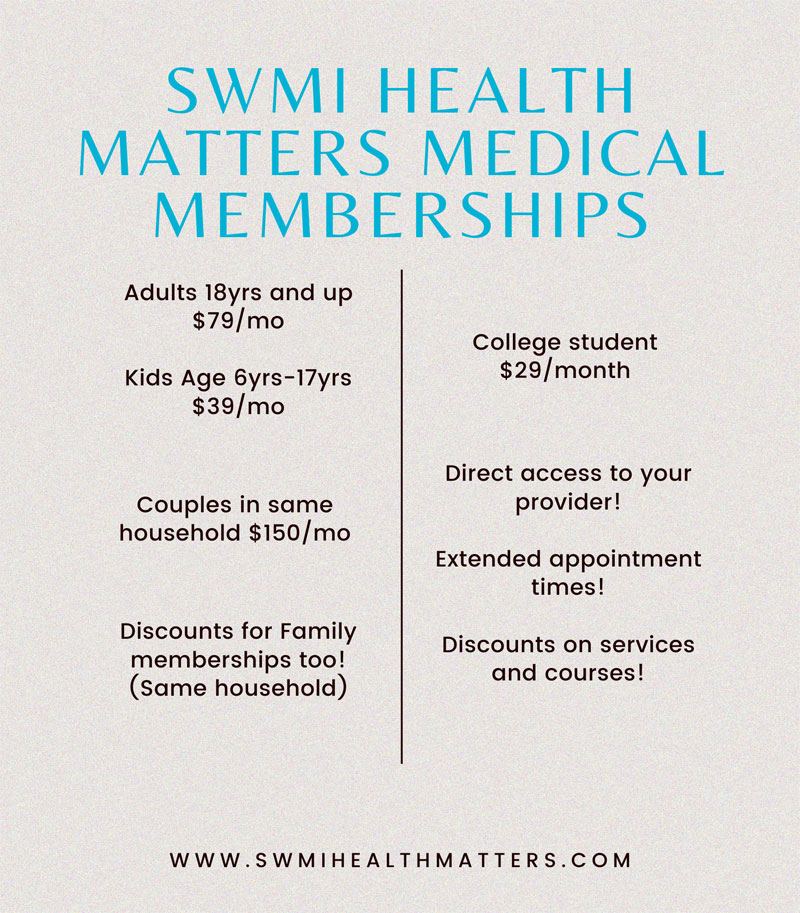 Primary Care Membership:
Annual wellness visit & complete physical

Direct access to your provider (call/text/video) during the week.

Urgent Care support after hours and on the weekends.

Extended appointment times (45+ minutes)

Urgent care

and telehealth appointments

Unlimited primary care & medical testing

Discounts of lab work and medications

Medication management

Specialist collaboration

Wellness Tips & Tricks E-Newsletter

Discounted A La Carte services, wellness classes, workshops, courses, and retreats with SWMI Health Matters.
Membership Perks:
Discounts on all of SWMI Health Matters A La Carte Services, wellness classes, workshops, and retreats. See upcoming events calendar here.
Monthly E-Newsletter including inspirational wellness tips & tricks
Access to our private FB group to meet other like minded folks, build community, and share resources.
Curious to learn more?
Call or text our office to schedule a free consult, 269.220.0648.
About Free Consults:
Free consults are a great way to get a tour of the wellness center, meet one of our providers, and get your personal questions answered. During the free consult, our providers will not be able to prescribe medication, order tests, complete medical forms, or give medical advice. If you are in need of any of these services, please consider scheduling a new patient appointment instead.
We were paying thousands to have insurance, but It covered NO pre-existing conditions, very limited maximums, and we had HUGE out-of-pocket co-pays every time we were seen. When I realized you had your practice, I realized this was a much better way to take care of our health and wellbeing.